Beach outfits should be decided with the thought in mind that beaches are supposed to be fun. Visiting a beach can be for several purposes. It can be a beach date or a beach vacation. It can be a dull time spending thing planned just for a break. Or it can be a lazy session which can be spent listening to wave crashes. Outfits and beachwear are to be decided according to the occasions. For instance, if it is a beach date, then simple flowery dresses won't go. Similarly, heavy accessories won't be suitable for a casual outing.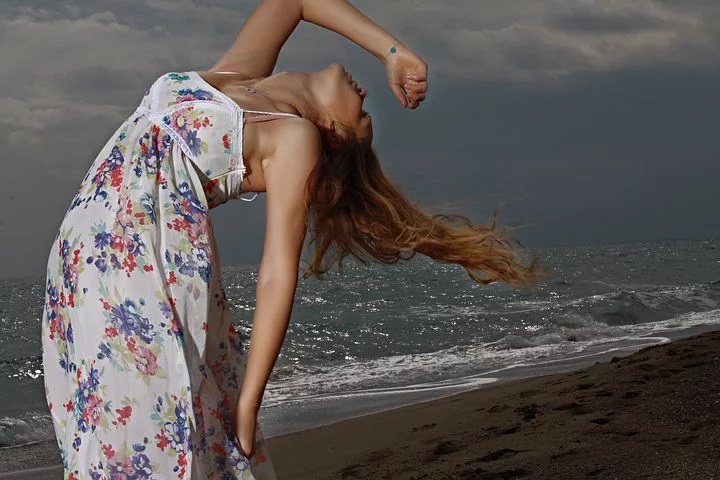 Inspirations behind the outfit planning
Here are some ways according to which a suitable outfit is to be planned and chosen:
1. If one sits and starts planning on what kind of gear to keep for the beach, the options are endless. These are directly dependent on the people you are with and also the occasions you are planning to be a part of. Similarly, a cocktail event demands a dress that is different than what may be required for a simple weekend plan. 
2. Appropriate is the keyword here. The attire should be well suited to the timing and place. This is what makes it appropriate for the occasion. Also, wearing something suitable is considered respectful for the person who may be putting up the event. 
3. It will be easier to choose an outfit if you decide the look you want to get. Your styling should depend on whether you want to look boho or chic or young or maybe sexy. The attire for the entire trip should be inspired for that word which you select for the kind of look you want. It has been said that our clothes start speaking much before we do. So, one needs to make sure to put up the right impression in front of people.
4. After deciding the occasion, the style, the people and the events, what comes next is the final step. This includes choosing the ultimate outfit with a combination of various items. All the elements that will create a style should be combined well for creating looks as desired. All the ingredients should be cohesive and should be sending one single vibe.
5. The decision should be based on the kind of fabric, the colour and the thickness of the layers as well. Apart from that, accessories make up an essential element. A fun print, with well-coordinated colours, should be selected.
6. Most of the dresses that are to be included should be open and breezy in many ways. The material should be light enough to make the suit very windy. The attire should be of the colours which go well on beaches.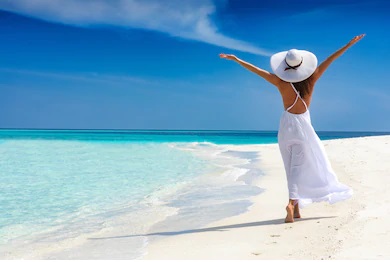 Talking about the outfits
1) Summer outfit
These can have light-coloured shorts. Mostly these are in shades of white, lemon or light blue. These can be paired up with cute floral tops. A light material shrug with a spaghetti top would also complete the look. Some examples in this case concerning shades and elements can be: 
A blue spaghetti strap shirt goes well with a yellow bikini or a neon one. A hat should be included in the look that keeps your face away from the sun. Also, the cap will protect your hair to a great extent. The shorts that are being preferred in this case are mostly laid back and loose. For footwear, some cute sandals will do. Also, other essentials of the look can be a beach cover-up which can act as a wrap kind of thing.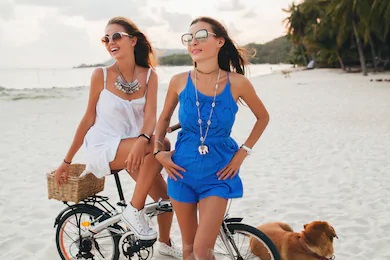 2) Vacation outfit for beaches
Let us talk about the accessories first. In this case, the significant inclusions are a hat, sunglasses, and a breezy top with prints that are inspired by some pattern. Some classic chino shorts complete the look. A boho bag has also become a significant trend. Bracelets also should be included in the complete look. Sun rays are intense most of the times.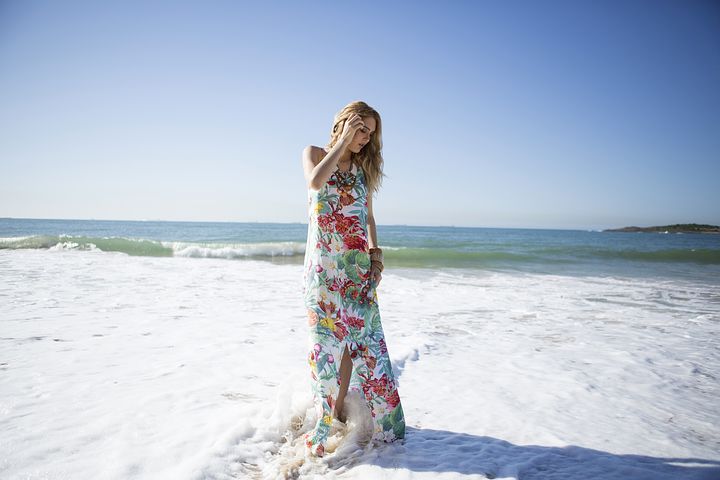 Here is a list of items that can complete your bag:
1. Monochrome outfit
2. Beachy Pants with stripes and Hawaiian style inspired Shirt
3. Swimsuit and sunnies
4. Sheer Romper and that famous belt bag
5. Tie-Dye print skirt and crochet top
6. Tropical shorts with some casual shorts
7. Printed Romper and a Tote bag
8. Bikini top and Denim shorts
9. Tshirt dree and sneakers
10. White skirt with a bikini-style top
11. Neon coloured tank tops and black shorts
12. Complete white look
13. Crochet shorts with a denim shirt
14. Tropical skirt top set with a straw bag
15. Beaded blouse which can be paired with strapped slippers
16. Animal print cover-up
17. Matching shorts and head of a floral pattern
18. Wide leg pants with a camisole
19. White t-shirt
20. Shirt dresses with checks